Description
The Newell 7-in-1 Hub is a universal splitter that plugs into a USB-C connector. The compact device will extend the functionality of your computer or tablet with 3 USB 3.0 ports, 1 USB-C port, an HDMI (4K) port and 2 memory card readers (SD and micro SD). The maximum data transfer speed here is 5 Gbps. The USB-C port is compatible with chargers with a maximum power of 100 watts (Power Delivery technology). The aluminum casing is a guarantee of ultralightness and adequate protection against mechanical damage. It will be an ideal choice when you need access to more ports or when your device has a USB-C input, but lacks USB Type-A inputs, memory card readers and an HDMI slot.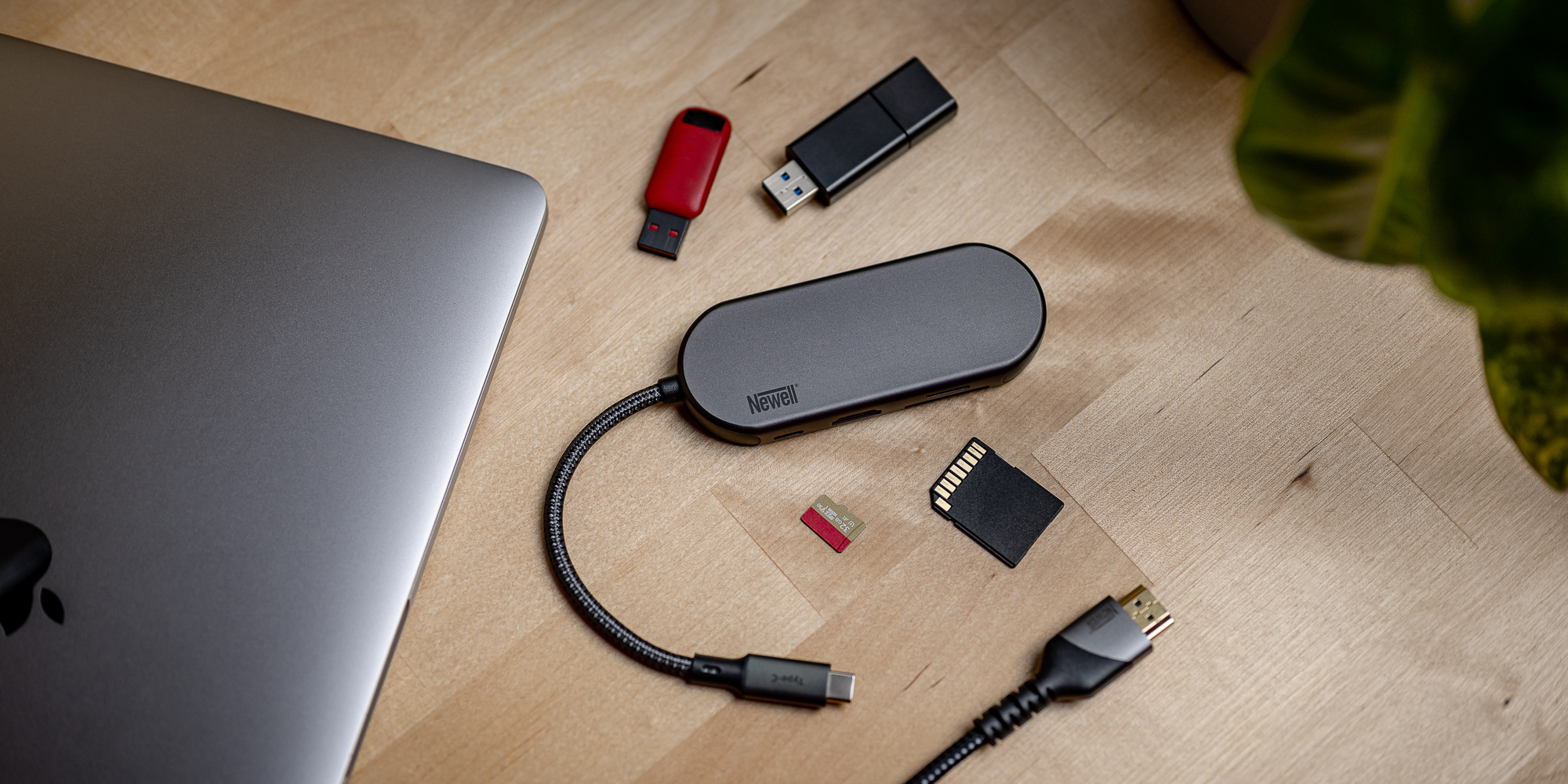 Main Product Features
multi-purpose USB-C connector splitter
provides access to more ports than your device offers
equipped with 3 USB 3.0 ports, 1 USB-C port (100W Power Delivery), HDMI port (4K) and 2 memory card readers (SD and micro SD)
the hub connects to the USB-C port
the HDMI port supports 4K audio and video
USB-C port supported by Power Delivery technology (100 watts)
with Power Delivery, you can connect a compatible power adapter to the USB-C port and quickly charge your computer
hub allows you to connect USB-A-compatible flash drives, external drives, mice or graphics tablets to the USB-C port, among others
customizable size and ultra-lightweight
solid aluminum alloy housing
maximum data transfer rate over USB 3.0 and USB-C ports is 5 Gbps
backward compatibility – supports USB 1.0 and USB 2.0 standards (connection is limited only by data transfer speed)
protection against overvoltage, overheating and overcharging
minimalist design and great build quality
compatible with Mac OS, Windows, Chrome OS and iPad OS
plug & play – using the device does not require installing drivers or additional software
Even more ports
Minimalism of modern devices does not always go hand in hand with functionality. If you work with several external drives or connect additional accessories to your computer, the number of sockets available on your computer case may not be enough. That's when the Newell 7-in-1 hub comes to the rescue. This small and handy device will provide you with access to 3 USB 3.0 ports, 1 USB-C port supporting the 100W Power Delivery standard, an HDMI 4K slot and memory card readers – SD and micro SD.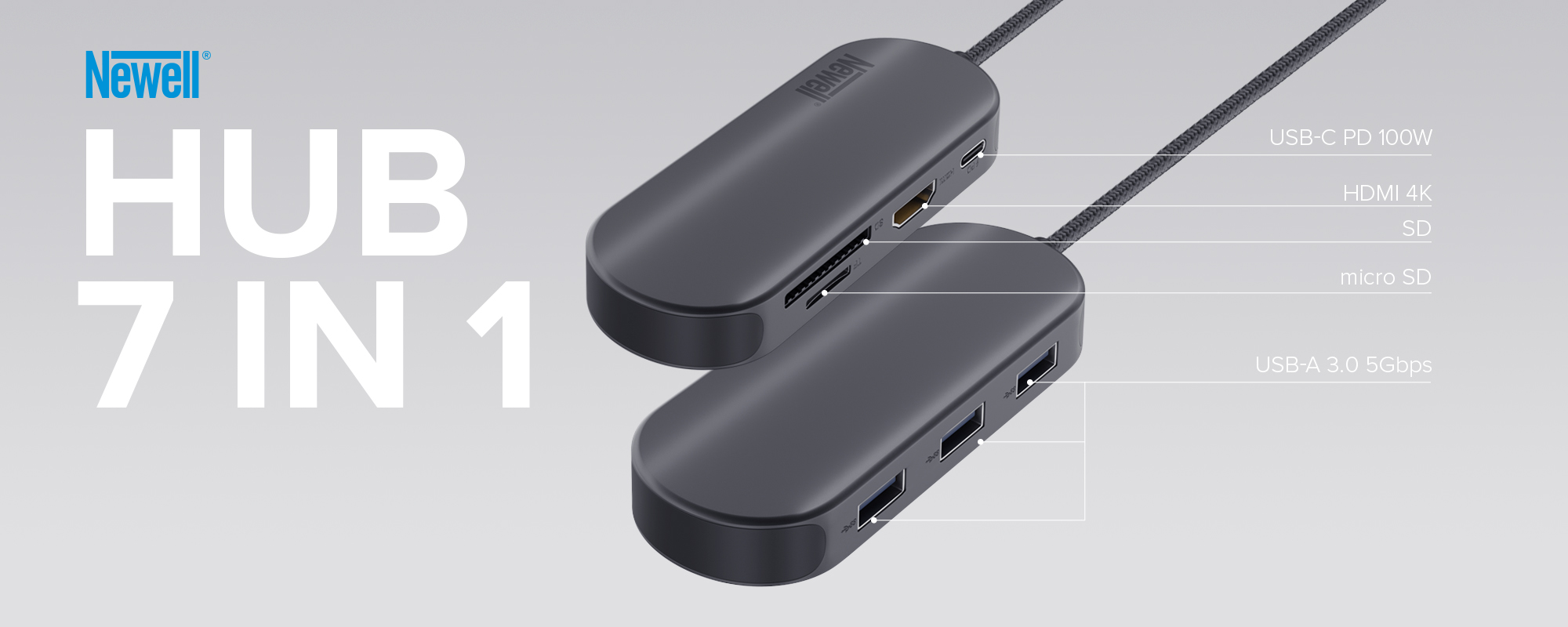 Power Delivery Technology
You can successfully connect a charger with up to 100 watts of power to the USB-C port you find on the Newell 7-in-1 hub case. You don't have to worry that the port you plugged the splitter into will prevent your computer from charging quickly. Support for Power Delivery technology will allow you to replenish your laptop in no time.
Fast data transfer
Want to streamline the process of transferring photos or videos from your camera to your computer or modern tablet with a USB-C port? Or maybe you want to quickly back up documents stored on memory cards and external drives? The Newell 7-in-1 Hub is an excellent choice. The maximum data transfer speed, when using USB 3.0 or USB-C ports, is 5 Gbps. This will instantly transfer files from external media to your computer.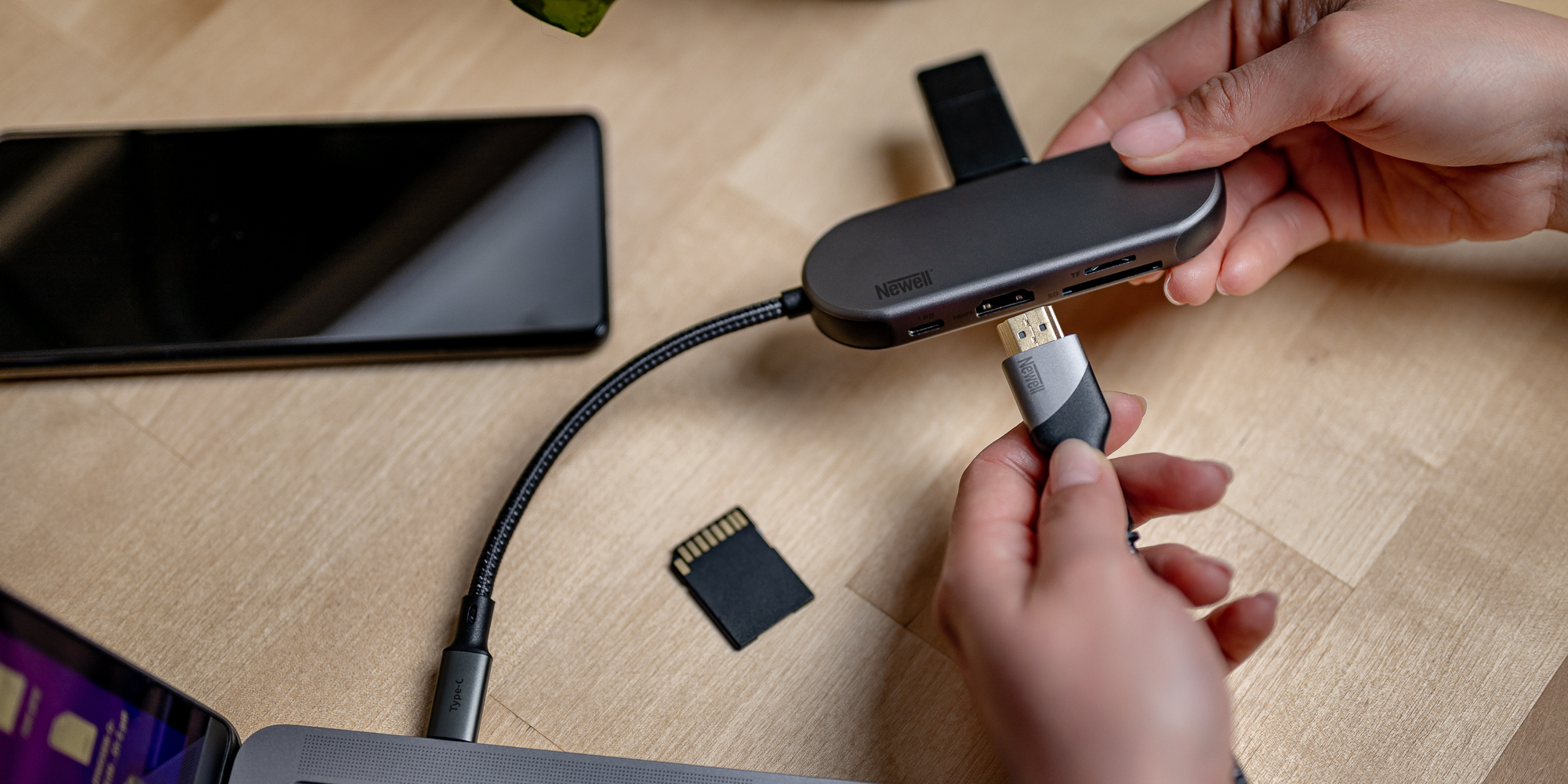 4K HDMI port
With the Newell 7-in-1 splitter, you can easily connect an HDMI-compatible monitor to a device that only has USB-C ports. The hub supports audio and video transfer in excellent 4K quality. Backward compatibility will, of course, also allow you to work with those monitors that offer lower display resolutions.
SD and micro SD cards
Are you looking for a way to quickly and conveniently save or read data from memory cards? Do you often transfer documents, photos or videos between different devices? With separate slots for SD card and micro SD card, file transfer will be easy and convenient.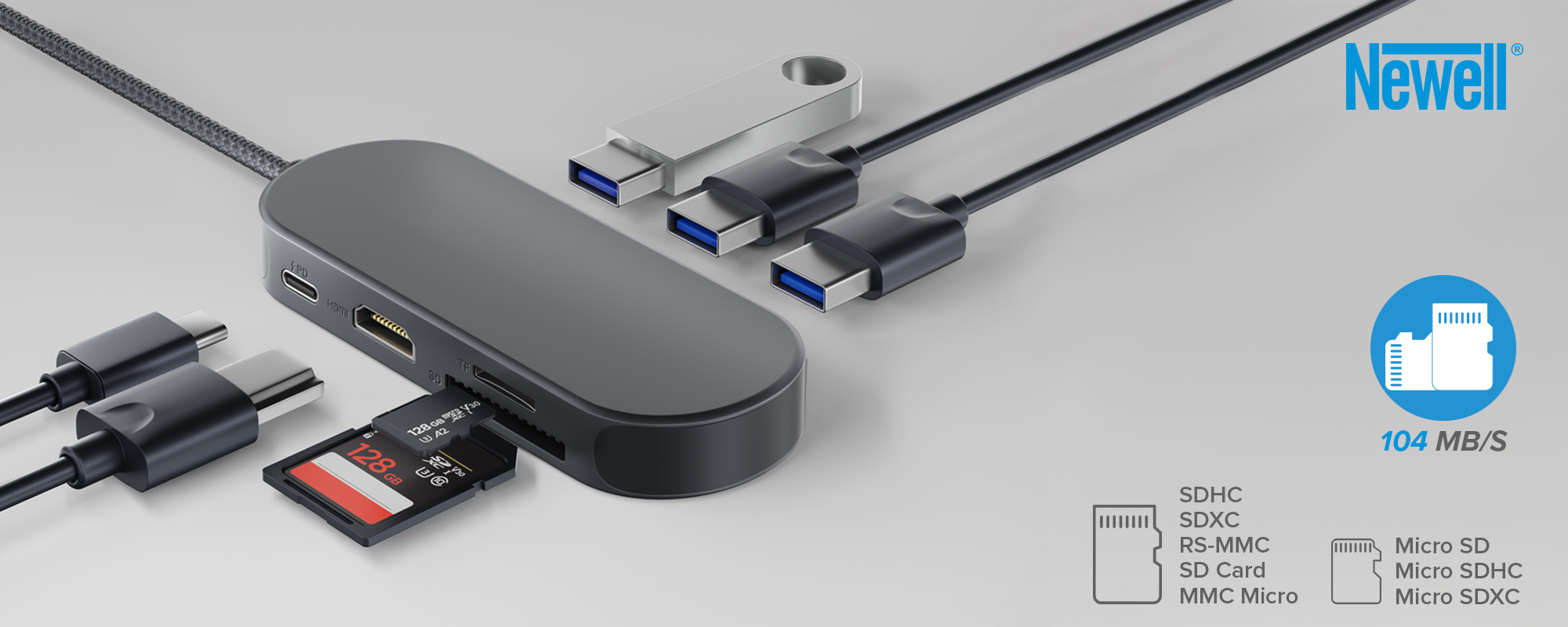 Work with your favorite devices
The fact that more and more ultra-thin computers don't have USB Type-A ports doesn't mean you have to give up the peripherals that have accompanied you until now. Just reach for Newell's 7-in-1 hub to make them fully compatible with your new hardware. Plug the splitter into a USB-C port to gain access to 3 USB 3.0 slots, which also support older standards – USB 1.0 and USB 2.0.
Quality and style
The Newell 7-in-1 Hub will easily fit into a backpack or laptop bag. The device is made of durable aluminum alloy for durability and ultralight weight. With its graphite finish and streamlined shape, the hub fits perfectly into today's minimalist design standards.
Specification
model: Newell 7-in-1 hub
color: graphite
material: aluminum alloy
supported memory cards:

 

interfaces:

 

 

1 x USB-C Power Delivery 96W (female)

 

 

dimensions: 105 x 42 x 33 mm
cable length: 165 mm
weight: 65 g
Set contents
Newell 7-in-1 hub – graphite